MEADOW IN THE SKY: A History of Yosemite's Tuolumne Meadows Region, 2nd Edition by Elizabeth Stone O'Neill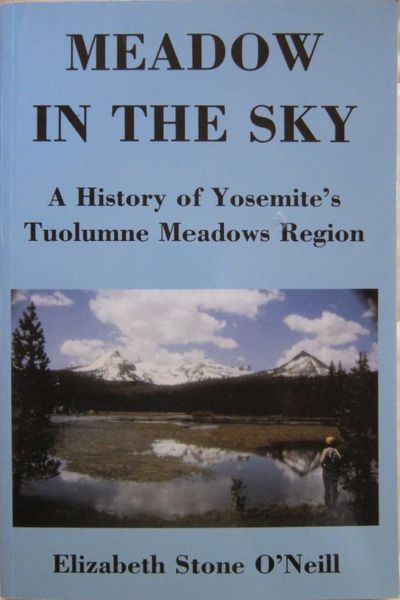 MEADOW IN THE SKY: A History of Yosemite's Tuolumne Meadows Region, 2nd Edition by Elizabeth Stone O'Neill
First published in 1984, this book has been through several editions and printings.  So far the only one of its kind, it traces the history of conservation in America.  In the Yosemite High Country, ideas were hatched and battles won and lost by the men and women we meet on the trail and in this book."First there was a meadow," and then...
183 pages, 42 illustrations.     9" X 6"    12 oz
" O'Neill has crafter a rich recollection of the Tuolumne Meadows region [of Yosemite National Park] [that] will be of special interest to many Sierra Club members for its chapters devoted to John Muir and the founding of the [Sierra] Club. William E. Colby, Edward T. Parsons, and the early High Trips; the great Yosemite geologist Francois Matthes, and great battles in which the Club figured prominently, including those over Hetch Hetchy and the Tioga Road."                                                                                                                                                 --- Al Buchanan,
SIERRA
[Meadow in the Sky] "offers a warmly personal tour of the largest most richly historical and most frequently visited of all high Sierra alpine meadows ... A must for the Yosemite traveler or armchair explorer."                                                         --- Howard Lachtman, The Stockton Record
"One can only admire [her] masterful blending of natural history, anecdote, historical fact, and, I must add, high purpose.  I found the book to be a very human-oriented treatment --- ony easy to read --- yet scientifically accurate; not many authors can produce such a work, much less accomplish the task so well."                                                                 
--- Michael Moratto, Sierran Archeologist  

"This is a thoroughly researched work that covers more than its subject ... there is something for everybody."                
--- John Montgomery, The American Alpine News